In the midst of heavy rains that hit Ngada, the President of the Republic of Indonesia, Ir. H. Joko Widodo and First Lady Iriana Joko Widodo took the time to visit the Turetogo Bamboo Campus on Wednesday afternoon (1/6) and greet the Mama Bambu, women pioneers who have spearheaded the bamboo nursery and reforestation program in East Nusa Tenggara (NTT).
The nursery and reforestation program using bamboo is a collaboration between the NTT Provincial Government and the Environmental Bamboo Foundation (EBF). The program involved 388 Bamboo Mamas in 21 villages in 7 districts in Flores. In 2021, the Bamboo Mamas succeeded in propagating and caring for more than 2.5 million seedlings. The number of seedlings is sufficient to rehabilitate 72,000 hectares of critical land.
This program is part of a long-term effort to develop bamboo agroforestry villages in NTT. The Bamboo Agroforestry Village program uses bamboo as a conservation plant (restoring critical land, protecting water sources, preventing landslides, absorbing carbon) as well as a plant to improve the welfare of rural communities through the smallholder bamboo industry.
The presidential entourage arrived at the Turetogo Bamboo Campus in Ratogesa Village, Golewa District, at 15.20 WITA and was immediately greeted by EBF leaders, including EBF Chair, Arief Rabik, Executive Director Monica Tanuhandaru, Senior Adviser Noer Fauzi Rachman, Senior Adviser Sarah Lery Mboeik, and bamboo taxonomy expert Prof. Dr. Elizabeth Widjaja. Also present were Singgih Kartono, the creator of the Spedagi bamboo bicycle, the Regent of Ngada, Andreas Paru, the Governor of NTT, Viktor Bungtilu Laiskodat (VBL), and the Chair of the NTT PKK Mobilizing Team, Bunda Julie S Laiskodat. VBL and Bunda Julie are the main supporters of this bamboo nursery and reforestation program.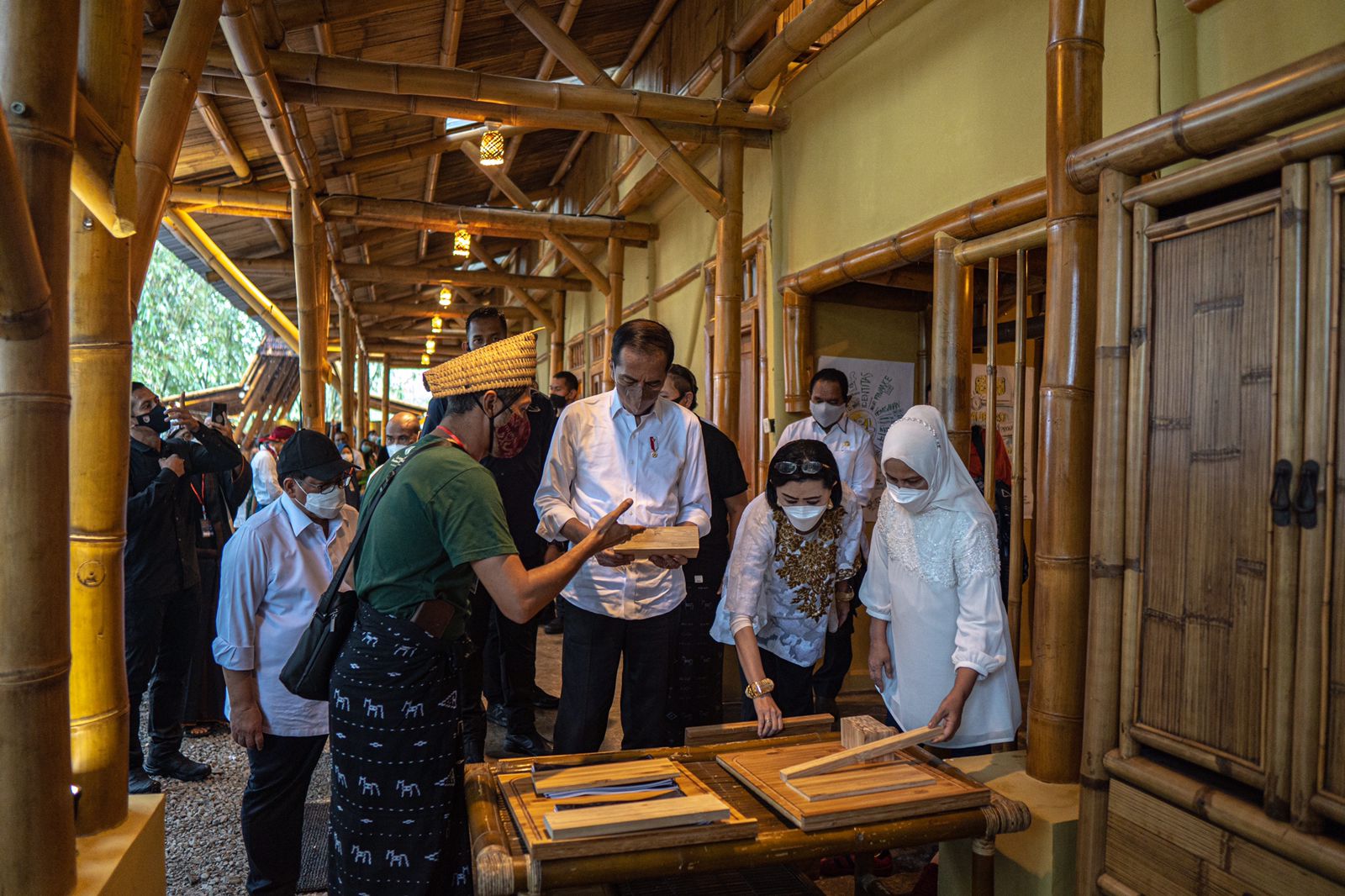 President Jokowi then listened to Arief Rabik's explanation about laminated bamboo, a processed bamboo product that has a shape and strength similar to wood. With the potential of bamboo that NTT has, this province has the opportunity to become a center for producing laminated bamboo. The global market demand for laminated bamboo will continue to increase because laminated bamboo is a more sustainable, environmentally friendly and lower carbon alternative than wood.
President Jokowi then spent a long time talking with the nine Bamboo Mamas who were the representatives of Bamboo Mamas throughout Flores. Of these nine women, five are from Ngada and four are from Nagekeo.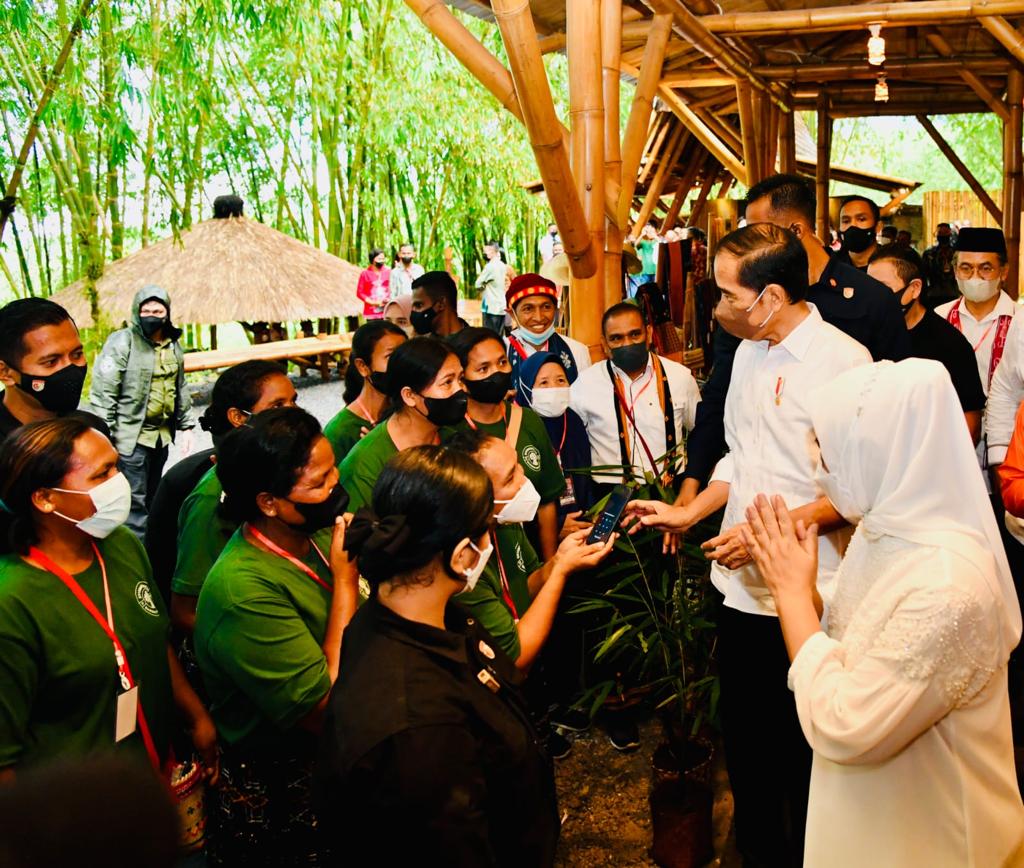 "Mr. President asked about the number of seedlings we produce, the price of seedlings, how to propagate the seedlings, and how long it takes to maintain the seedlings until the each plant has 25 leaves," said Wilhelmina Bhoki (51), a Bamboo Mama from Genamere Village, Bajawa.
Wilhemina Bhoki couldn't hide her joy at meeting and conversing with Jokowi.
"I'm very happy, since I was born, this is the first time I've been able to meet Mr. President," she said.
So happy, Wilhelmina and the other Bamboo Mama asked for an opportunity to take a photo with President Jokowi and the First Lady.
"We asked for a group photo, and I was next to the President, very proud," she said with a smile.
In his conversation with EBF Senior Adviser Noer Fauzi Rachman, President Jokowi asked what support he could provide to encourage the creation of NTT as a center for community based bamboo industry. Noer Fauzi Rachman describes the need to have a National Bamboo Development Strategy to accelerate the creation of a people-based bamboo industry throughout Indonesia.
"Mr. President stated that he is ready to help and support these efforts," said Noer Fauzi Rachman.
President Jokowi and his entourage left the Turetogo Bamboo Campus at 16.00 WITA.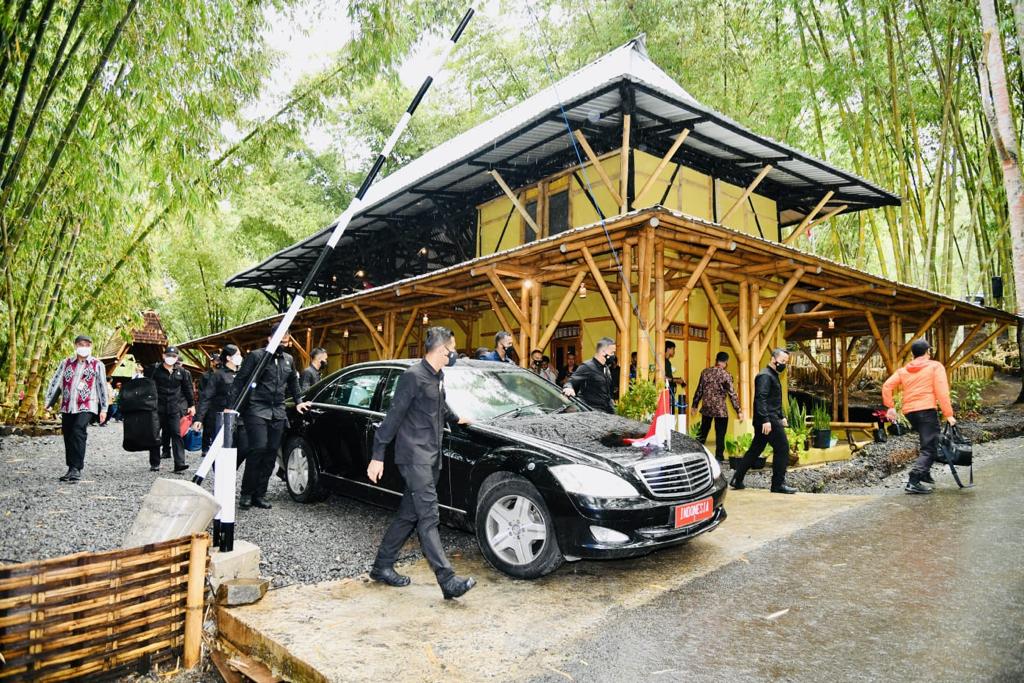 The Turetogo Bamboo Campus was inaugurated in May 2021 and aspires to be a center for education, research, innovation, and cultural exchange about bamboo. So far, the Turetogo Bamboo Campus has carried out a number of educational activities and workshops on the nursery, planting and sustainable management of bamboo forests. The campus is equipped with a number of facilities, including a study building, lodging, bamboo preservation installations, bamboo gardens with local plants, as well as an example of the Sustainable Bamboo House building–a residence made of laminated bamboo with a knock-down system. Rumah Bambu Lestari can be an alternative for social housing, post-disaster temporary housing, public facility buildings, and tourist resorts.
EBF was founded in 1993 and has consistently campaigned for bamboo as an ecological solution and an economic solution in village development. Currently EBF is working with villagers in NTT, Bali, East Java, West Kalimantan and Central Kalimantan in developing bamboo agroforestry villages.