Earth Company awarded Arief Rabik the Impact Hero honor for 2021 in recognition of the 1000 Bamboo Villages strategy and vision.
"I'm speechless, I don't know what to say, but thank you so much for giving us this opportunity to work together to empower the farmers of Indonesia and around the world to restore their degraded lands and build this beautiful village-based industrial systems, this amazing forests that will supply us fibers, fuels and food of the future. So here is to our success!"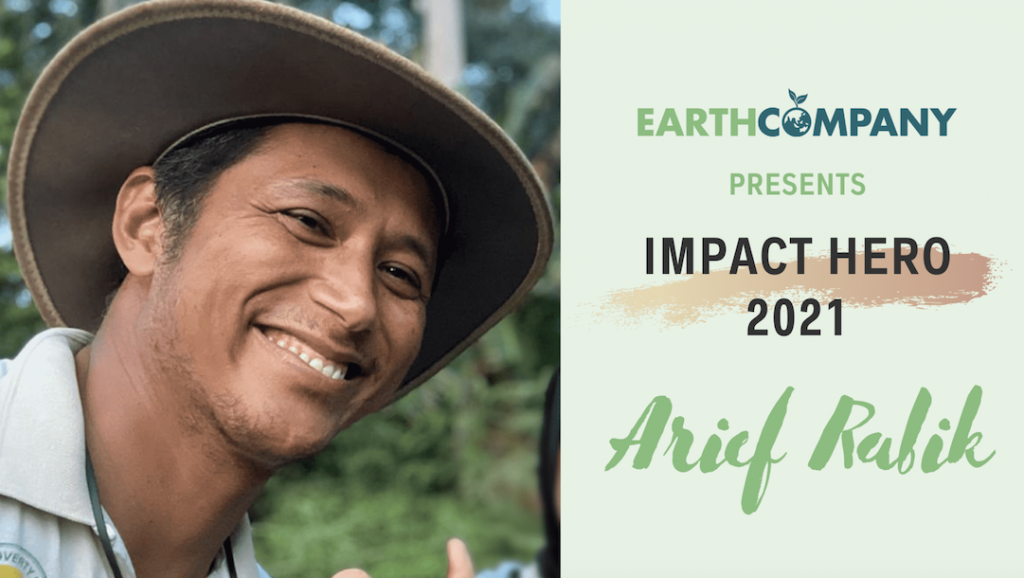 Reasons for selecting Arief Rabik as Impact Hero 2021
Above all, the selection committee was deeply moved and inspired by his grand bamboo village vision that could make tangible contributions to climate change and multiple other outcome areas. His vision and work serve as a source of hope and inspiration for all in this age when we are constantly reminded of the catastrophic effects of the climate crisis and environmental degradation.
Towards this hopeful future, he and his team at EBF have already demonstrated success in Flores, empowering women and youth, improving the livelihoods of villages, restoring massive areas of degraded land, and sequestering carbon through impressive bamboo forests. With a number of villages in the team's portfolio, the 1,000 bamboo village initiative seems to be on the cusp of scale-up and substantial impact.
The selection committee also found his personality to be authentic and his passion unshakeable. He is amazingly adaptive and versatile: he loves being in the field with the villagers in eastern Indonesia and, literally on the next day, he would be in Jakarta rubbing elbows with corporate executives and key policymakers.